DRACULINA PODCAST #5 IS NOW AVAILABLE!
Part Two of the interview with writer, producer, director Tim Ritter; where he talks about making many of his movies and the ups and downs of being in the B-movie biz.
Check out our other podcasts too!
The Draculina Podcast is available on the following services:
---
New Horrible Hugh's Coffin Reviews is now available on YouTube! In the latest edition Horrible Hugh takes a look at the new Netflix horror movie GIRLS WITH BALLS! Don't miss out! Find out more on the
Horrible Hugh page
!
Super rare find! Uncovered a box of with two magazines I thought were lost! From 1993, the
Draculina Fear Book 2
! Super rare and I very limited quantities! Also, from 1996, I have copies of
Draculina 27
that were autographed by B-movie star Jewel Shepard! Click on covers below to find out more!
---
Doing random reviews off of Netflix, Amazon Prime, Hulu and more!
Click here
for complete listing.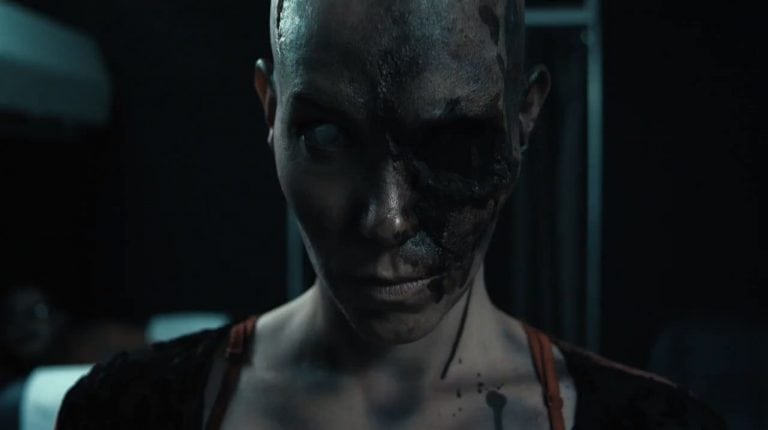 ---
OTHER MOVIES CURRENTLY REVIEWED:
---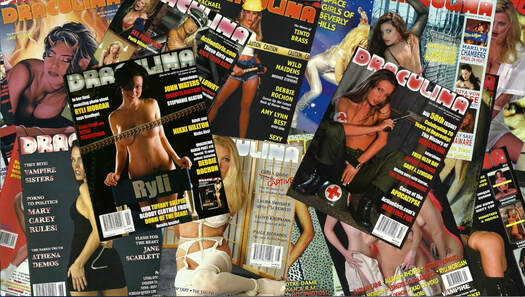 Get 20% off you entire order until Halloween OCTOBER 31, 2019!

Just type 20DEAL coupon code at checkout and your entire order will be marked down 20%. Offer ends October 31, 2019!

---
---
FREE DOWNLOADS!
Now if you can open a PDF file you can view select sold out issues of Draculina Publishing magazines and comics. Check out the FREE DOWNLOAD page to see what is currently available!
CLICK HERE FOR AVAILABLE FREE DOWNLOADS!
---
It has been a long time since this site has been updated. I have added many new magazines and there will me more added in the future. If you are looking for something specific please use the search engine above. If you have any questions about an item or just want to say hello you can email me at
dracdirect@gmail.com
.
Please check out the blog (above) and contact form (below) to be added to the email list to be notified when new things become available. Your email address will not be sold or used for any other purpose that the occasional Draculina update. Have fun looking and keep it gory!
- Hugh Gallagher
---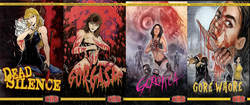 ---
GORE TRILOGY DVDs NOW AVAILABLE!
Gorgasm, Gorotica, Gore Whore and Dead Silence are now available for sale on this site! Also available, signed copies of the movies!
Check it out here!